Our logo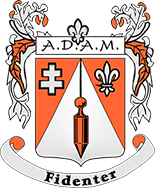 The logo for the Association of Descendants of André Marsil was adopted in 1994 at the second annual general meeting of the members.

Here is the explanation of the logo of the A.D.A.M.

A shield-shaped ECU.

We are the descendants of the couple : Marsil/Lefebvre


ANDRÉ MARSIL, born in St-Omer
Arms of St-Omer : red shield with
a patriarchal silver cross.


MARIE LEFEBVRE, born in Soissons
Arms of Soissons : red shield with
a silver fleur-de-lys.

By assembling these two colors (red and silver) and these three pieces of furniture (cross, fleur-de-lis, plumb line), we have created a shield for the A.D.A.M. which can be described as follows in heraldic language:

Silver plumb line gobs shaded with shifting sand from the point of the chief; to the clevis gobs loaded with dexter of a patriarchal cross of silver, with senestre of a fleur-de-lys of the same.

The plumb line expresses the descent of this couple.
THE OTHER LOGO ORNAMENTS
A SIGN: above the shield, bearing, in acronym, the name of the Association of the descendants of André Marsil: the A.D.A.M. from which emerge garlands of stylized leaves framing the shield, surmounted by the fleur-de-lys from Québec.
A BANNER: below the shield, bearing the Latin motto of the A.D.A.M. : "Fidenter". (With Aplomb )
This logo is the fruit of the research of Father Michel Marcil S.J., secretary of the Association (1993-1997).
He designed and drew it with the infographic assistance of Grégoire Marcil.